BIODIVERSITY – Costa Rica hosts more than 5% of the world's biodiversity, even though its landmass only takes up .03% of the planet's surface.  Biodiversity
CLIMATE – For most of Costa Rica, the dry season runs from December through April. During these months, the Pacific coast and most of the Central Valley receive little rain, or the odd afternoon shower. May through mid-November is considered the rainy season, when days are marked by sunny mornings and late afternoon thunderstorms. The Caribbean coast, Monteverde and Arenal areas are exceptions to this rule, and have no distinct dry season.
ENVIRONMENT – The Environmental Performance Index (EPI) ranked Costa Rica the world's "5th Greenest Country" in 2012. In an attempt to go entirely carbon neutral by 2021, the country initiated an immense reforestation program to help offset emissions.
FOOD – A "soda" is a small, informal restaurant that serves traditional meals like chicken, rice, beans and salad for $2-$3 a plate.  A "pulperia" is a neighborhood store that sells essential foodstuffs like canned goods, eggs, milk, bread and some produce.  For popular Costa Rican food, see our link.  Food
HEALTHCARE – The country draws international praise for its modern health care system, ranked 36th in the world by the World Health Organization (WHO). Costa Rica has one of the world's highest life expectancy rates at 77 years. The Nicoya Peninsula is considered one of the world's seven Blue Zones, where people live longer, happier lives.
INDUSTRY – Costa Rica is one of the planet's largest exporters of microchips. Often called the Silicon Valley of Latin America, the country is no longer a cash crop nation. Microchips, software development, and tourism are the chief industries in Costa Rica's economy. Industry giants Intel, IBM, and Microsoft have distribution facilities within the country.
LANDSCAPE  –  More than 25% of Costa Rica's land is dedicated to national parks, reserves and wildlife refuges. There are more than 100 different protected areas to visit. Landscape
LANGUAGE – Costa Rica's official language is Spanish, though a large number of its citizens are bilingual. English, due to its status as the international language of tourists, is the most common second language in Costa Rica.
NATIONAL BIRD – The national bird of Costa Rica is the Clay-colored Thrush.  National Bird
NATIONAL FLOWER – Guaria Morada (cattleya skinneri) , one of the most common and popular orchids found in Costa Rica.  It was adopted as the national flower in June of 1939.
NATIONAL TREE – The national tree is the Guanacaste Tree.  National Tree
NATURAL RESOURCES – Costa Rica is flush with natural resources and generates 78% of its own renewable energy by hydroelectric means, and an additional 18% by geothermal or wind power. The government has voted against actions that could damage its lands, such as oil drilling and open-pit mining, though both would reap financial rewards.
PEOPLE – Today, Costa Ricans are largely of European descent and an estimated 10% of the country's population is Nicaraguan. Local indigenous tribes – Boruca, Chorotega, Guaymi, Bribri, Kekoldi and Cabecar – account for a mere 1% of the total population.  Generally speaking, Costa Rica is a relatively homogenous society, but the Caribbean province of Limon is home to thousands of Afro-Costa Ricans who observe the culture and traditions of their Jamaican ancestors.
PROVINCES AND TOWNS – Costa Rica is divided into seven provinces: San Jose, Alajuela, Heredia, Cartago, Guanacaste, Puntarenas and Limon.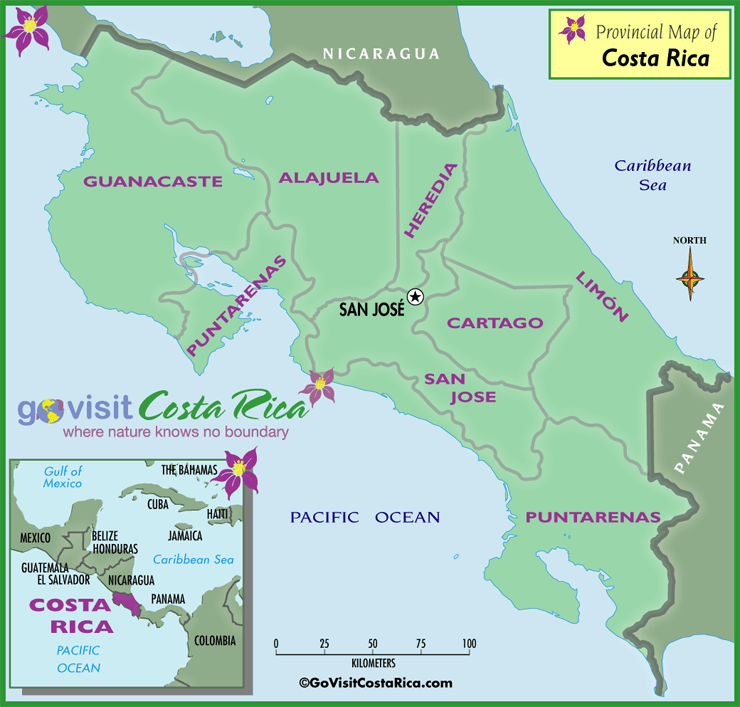 RELIGION – Costa Rica's 1949 constitution guarantees freedom of religion, though the official state religion is Roman Catholicism. More than 75% of the population identifies as Catholic, though only 45% practice their faith. Evangelical Christians are the second largest religious group in Costa Rica.
SCHOOLS – The government made education both free and mandatory for all Costa Rican citizens in 1869. Costa Rica's education system is rated one of the best in all of Latin America and the country boasts a 96% literacy rate.
SIZE – The second smallest Latin American country at 19,730 square miles (the size of West Virginia).  From coast to coast, the country spans no more than 200 miles in length and just 70 miles at its narrowest section.
TIME – Since Costa Rica is located so close to the equator, the sun rises and sets at roughly the same time throughout the year. The sunrise occurs at around 5:30 a.m. and the sunset at 5:30 p.m. There is no Daylight Savings Time, and Costa Rica's time zone is the equivalent to either Mountain or Central Standard Time.